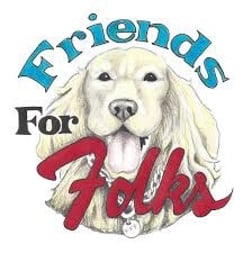 Hope is a belief in the chance that something good will happen
December 30, 2015
Hope is a belief in the chance that something good will happen. In Hope the dog, hope the feeling wears long, blond curls, has soulful black eyes and wags her tail in an energetic invitation to not only believe that something good will happen but that something good is happening.
People ask me all the time how I'm not the happiest person in the world, getting to spend a huge portion of my time with such a happy dog. And, while I do believe that any time spent with a dog is time well spent, I have to tell you that I've struggled with finding an acceptable point between bliss and stress. Being responsible for another creature's well-being, and the resulting hypervigilance, is not something I am naturally cut out for.
Some of my fear has to do with my own trauma issues—those associated with Quigley and that experience and those that I bring with me from both near and far—and some of it has to do with my own fear and control issues. Still, yet, some of my concerns are well-founded and a result of two years (and growing) experience in therapy dog training and handling and life experience.
While the overwhelming majority of Hope's interactions are positive, it is those other times that put more gray hairs in my used-to-be-black head of hair. One of my challenges is learning when to correct people who show no regard for Hope's boundaries. Even though she handles it well, there are still times when someone disregards her perspective and comes at her from right on top of her. Usually those same people try to wrap their arms around her and hug her, causing her to look at me, like, please get me out of here.
Now, keep in mind, while they're doing this they can't see her face so they can't see her look back in distress. When I see the whites of her eyes I know she is saying, "I don't really like this." It is one of the micro-signs that I've learned along the way. But, since the person doing that can't see her and she is polite and submissive enough to not voice her uneasiness in another way, they often mistake that for permission.
Almost without exception, those same people will then exclaim, "She really loves me!"
The few times I've mustered up the courage to suggest that maybe Hope's a little uncomfortable with hugging and personal space infractions those same people will say, "Oh, no. It's okay; My dog loves this!"
First, I'm going to bet that your dog doesn't love it any more than Hope does but even if they are into being smothered, here's the difference: Hope is not your dog. She is around you maybe 10 minutes a week during the most stress-filled, hectic and energy-draining hours of her day. Just because she tolerates it doesn't mean she likes it.
Second, like with any of us, just because we tolerate something doesn't necessarily mean we like it.
Someday, hopefully sooner than later, I'll feel more comfortable and find more balance in my role while finding ways to educate people without it being confrontational. In the meantime, we'll trust that Hope continues to show tolerance and acceptance beyond her years.
I'm on a learning curve and when I'm not panicking over things I can't control and obsessing over the difference between those and the things I can (sound familiar?) Hope is teaching me some wonderful lessons and I've been gifted with witnessing some incredible experiences.
Several days ago, I did a Recreational Therapy assessment on a young lady who had come to us with suicidal ideations; this lady was in such crisis that she required 1:1 supervision and companionship her first several days with us.
I had stopped by her room several times, hoping to chat with her and find out what she did for fun—an often overlooked yet oh-so-important piece of our overall wellness—but each time she was asleep. I'd chat with the person assigned to her and sitting quietly just inside her door and within a couple of conversations I'd learned that she was very pleasant but, also, very, very sad and depressed.
I was finally able to catch her while she was awake and we talked. Her energy was low and you could tell you were in the presence of someone who temporarily, at the very least, had lost her will and desire to live.
"So, can you tell some things you do for fun?" was met with a look that could've been a thousand years old, along with a small amount of what appeared to be contempt for this obviously inane question.
"Not much anymore."
"Well, when you were doing some things you enjoyed, what were they?"
I found out she liked music and used to play the flute, along with a handful of other activities; all of which it was obvious she hadn't done in a good while.
Before I left, I asked her if she liked animals and got a faint smile and nod. I told her we had a therapy dog and that, tomorrow, I'd try and bring her by so she could see her if she'd like. Again, a barely perceptible smile and nod.
The next morning when Hope and I walked onto the ward, I saw the PCA that was assigned to this young lady sitting by her door which told me she was in bed again.
Hope and I walked over and I asked, "Is she asleep?"
"Yeah; hasn't gotten up all day."
"Well, I'm going to stick my head in and see if she'd like to see Hope."
I stuck my head in the door. "Ma'am?"
A muffled grunt came from under the covers.
"You've got a visitor."
She pulled the covers down and opened her eyes. There was Hope standing there, wagging her whole body like she does when she's eager to greet someone.
I don't have to words to describe the instant joy that immediately transformed her face. "Oh my," she said.
"Want her to sit up there with you?"
"Yeah."
"Hope, go up," I said and Hope immediately piled up in bed with her where she began rubbing her head and petting her.
"She's beautiful."
"Yeah, she's pretty special."
We stayed a few more minutes and when Hope and I got ready to leave she made a point to look me in the eyes and nod her head. All I could see was gratitude.
"We'll see you again," I reminded her.
Later that day I saw her out at an activity and I swear there was a little sparkle back in those eyes and she was laughing and smiling with the folks she was sitting by.
Hope is a belief in the chance that something good will happen. In Hope the dog, hope the feeling wears long, blond curls, has soulful black eyes and wags her tail in an energetic invitation to not only believe that something good will happen but that something good is happening.
Bo Cox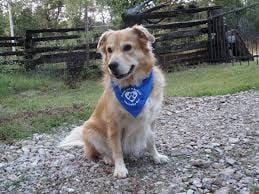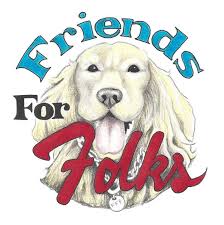 Friends for Folks is a 501(c)(3) non-profit organization that depends entirely on donations received by people like you to keep these programs going. Click below to make a fully tax-deductible donation!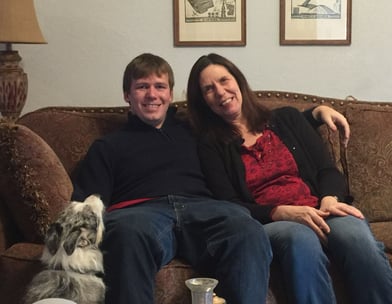 Jake Norman McDonald Memorial Fund at Friends for Folks
This fund is established in memory of Jake Norman McDonald, 1991-2020, by the Brearley School Class of 1980. Jake, son of Alice Stanton (Brearley class of '80), loved dogs and wanted to rescue every single one of them that didn't have a home. Jake's family on his mother's side received their feisty and much-adored dog Callie from Friends for Folks. The fund honors Jake's tender heart and serves as one of his legacies.