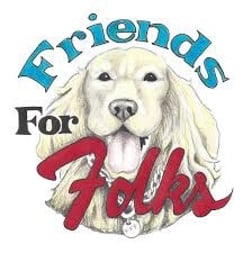 November 9, 2015
People keep asking me, "When are you going to write about Hope?"
In the dictionary it says that hope is a belief in the chance that something good will happen. Her name couldn't be more apropos; in Hope the dog, hope the feeling wears long, blond curls, has soulful black eyes and wags her tail in an energetic invitation to not only believe that something good will happen but that something good is happening.
Believe me, I wanted to write about her the day I brought her home; the first time her and our other dog, Gibby, laid on the couch together; the first time they played together; after her first night in therapy dog class where she performed like a seasoned veteran or any of the other times I've been so proud of her or so thankful she's in my life that I could just bust.
I tried to write about those things and more and every time I sat down to write I couldn't help but think about the dog that made Hope possible: Quigley. It wouldn't be fair to say I'm over Quigley, any more than it would be safe to say any of us are ever over the sadness and pain that accompanies loss. While it never goes away it does seem to fade; just enough for us to carry on.
This is a good reminder and illustration for me as I continue to learn about loss and trauma and their effects on us and the people we serve. Just like I couldn't and/or wouldn't carry on a seemingly "normal" function like writing, others have trouble resuming various behaviors and activities associated with their respective losses and trauma.
It was about a year ago today that I typed "Golden Retriever Rescue, female, young" into the search engine on my computer. Wouldn't you know it, Hope's picture was the first one that popped up!
Still, I filled out requests for about four different dogs with four different rescue organizations. The first I heard back from was Brenda at a rescue organization named Dogs As Family; this was the place that had Hope! Brenda told me what we'd need to do to begin Hope's adoption process and even though her adoption was far from being a foregone conclusion I told the other rescue organizations we'd already found our dog as I heard back from them.
My wife, Debb, made several trips to a pet store in Oklahoma City where we met Hope and Brenda and began making plans for the official adoption. While Quigley's impact at GMH was groundbreaking and served to clear the way for Hope, we'd also learned some things about what not to do and the main one was that while Hope would work here, she'd live at home with us.
Finally, the day arrived for Hope's adoption and a handful of us met Brenda and Hope in the GMH parking lot where papers were signed and introductions made (see pic of Hope with Charla) and as quick as we could say hello Hope was being whisked off to the Friends for Folks program at Lexington Correctional Center where she'd eventually spend almost four months learning her basic obedience skills. During that time, after an acclimation period, I was allowed to travel to the prison once or twice a week and observe Hope's training regimen.
Finally, the day arrived and we got to go pick Hope up at prison and bring her home. However, this wasn't as simple as it sounds. One of the reasons we never looked at Quigley coming home with us was that, at that time, we had two big male dogs and we were concerned a third might be an uncontrollable crowd.
Two things made our situation at different with Hope. One was that one of our dogs, Dookie, had died last summer and the other was that Hope was a younger female. Still, there were concerns as our remaining dog, Gibby, had "issues." We live out in the country and except for his lifelong companion, Dookie, the only interactions Gibby has had in his lifetime are fights with other country dogs and a couple of bloody scrapes with coyotes! Let's just say Gibby wasn't exactly socialized very well.
The lady we'd found to help with therapy dog certification, Sydney Head of Full Circle Obedience School in OKC, reassured us she'd help us with a protocol that would help ensure Gibby and Hope's successful relationship. Truthfully, Debb and I were concerned that Gibby would eat Hope but our fears were unfounded as Sydney's protocol worked and, within weeks, the two of them were not only tolerating one another but beginning to play together!
I began bringing Hope to work in small increments and it wasn't long before the routine of coming to work was established. So much so that today, less than six months later, she goes out and lays by the car every morning when she sees me getting ready for work.
At this point, she is now a Certified Therapy Dog and, beyond that, absolutely loves coming to work with me. She has yet to meet a stranger and even when she's not particularly interested in meeting someone (usually when she's distracted by the thought or promise of food!) she is still very well-mannered and polite.
Hope's had some health issues—mostly severe allergies—and we've worked to get them under control. At this point, she's getting better all the time. Her shoulder injury (From playing too hard with Gibby—and we thought they wouldn't get along!!) is continuing to heal and it won't be long, we hope, that she'll be 100%!
So, I am going to start writing stories about Hope—both the dog and the belief—and especially the times when the two coincide.
But, first, I want to thank all of you for being so supportive of this wonderful mission/journey/endeavor and for having hope.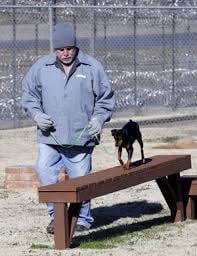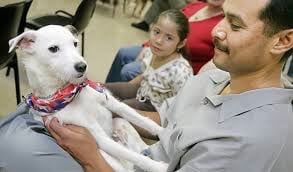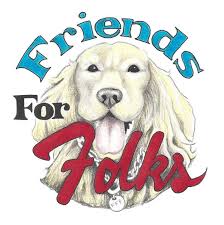 Friends for Folks is a 501(c)(3) non-profit organization that depends entirely on donations received by people like you to keep these programs going. Click below to make a fully tax-deductible donation!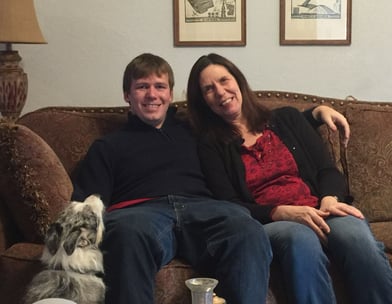 Jake Norman McDonald Memorial Fund at Friends for Folks
This fund is established in memory of Jake Norman McDonald, 1991-2020, by the Brearley School Class of 1980. Jake, son of Alice Stanton (Brearley class of '80), loved dogs and wanted to rescue every single one of them that didn't have a home. Jake's family on his mother's side received their feisty and much-adored dog Callie from Friends for Folks. The fund honors Jake's tender heart and serves as one of his legacies.